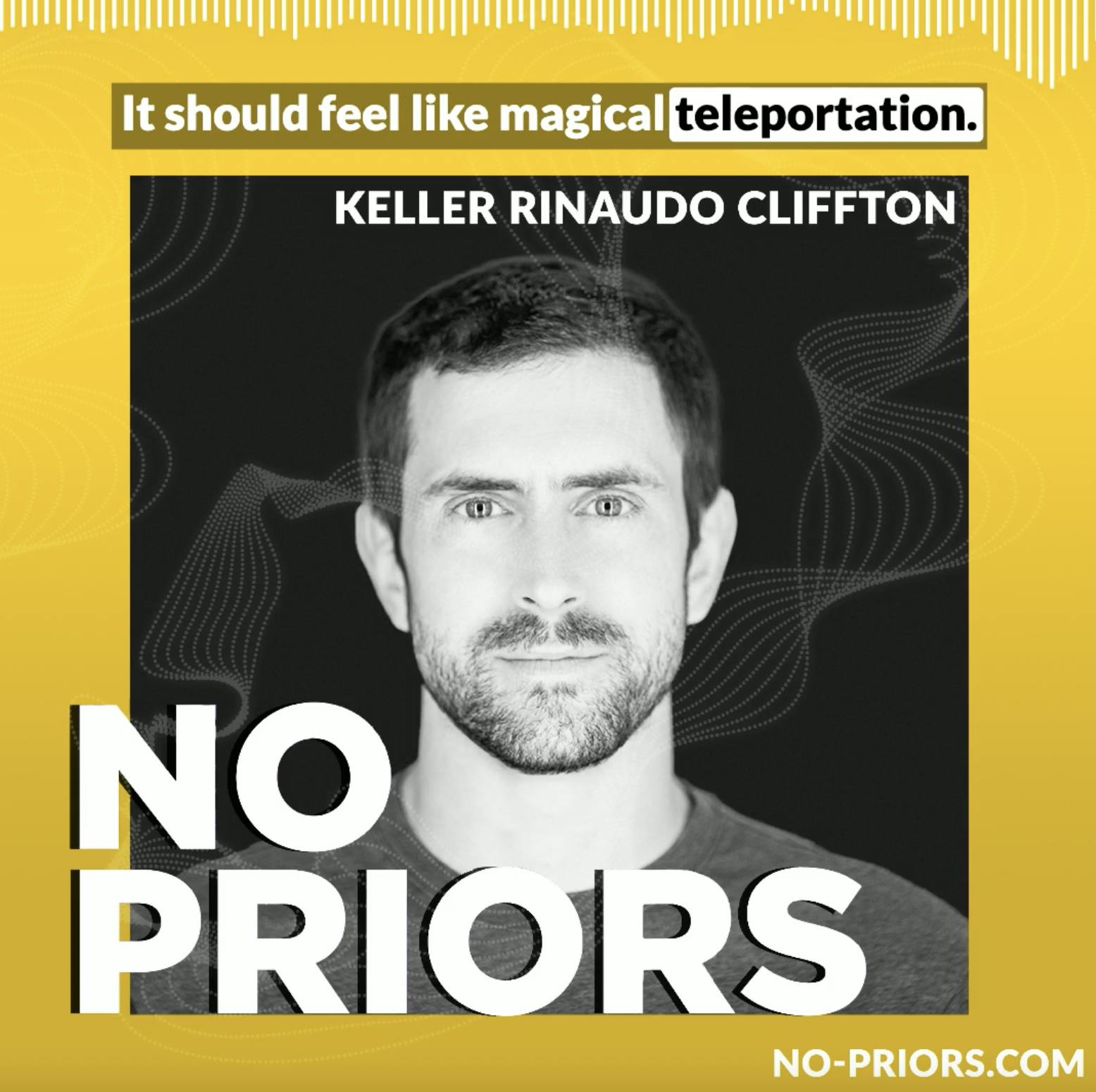 🎙 No Priors, Episode 104: Keller Rinaudo Cliffton, Founder/CEO Zipline (TRANSCRIPT)
EPISODE TITLE: What's behind the largest commercial autonomous system on earth? With Zipline's Keller Rinaudo Cliffton
EPISODE DESCRIPTION: A delivery with Zipline is the closest thing we have to teleportation. It sounds like science fiction, but Zipline delivers life saving medical supplies such as blood and vaccines to hospitals, doctors and people in need around the world with the world's largest autonomous drone network.
This week on the podcast, Sarah Guo talks to Keller Rinaudo Cliffton, the co-founder and CEO of Zipline, about building a full-stack business that involves software, hardware and operations, how a culture of ruthless engineering practicality enabled them to do unlikely things, the state of autopilot in aircraft, their acoustic detect-and-avoid system, and why founders should build for users beyond the "golden billion."
Full Transcript Below (not edited):
SARAH:
I am thrilled to have Keller REO Clifton as today's guest. He's the incredible co-founder and c e O of Zipline, a company that's pioneering instant delivery. Zipline flies blood vaccines and other medical products to hospitals, doctors, and people in need around the world. It makes these critical deliveries all through autonomous, safe and sustainable drones, which we'll discuss in detail. It sounds like science fiction. The Zipline's drones are operating and scaling up. They've already put Rwanda's 11 million citizens within a 30 million, within a 30 minute delivery range of blood and other medical supplies, and today delivers 75% of the blood outside the nation's capital. They've done 50 million autonomous miles of delivery. Keller, welcome to no priors.
KELLER:
Thanks.
SARAH :
Let's start with the basics. Tell us about yourself, what you were like as a kid, what she did right outta school. Have you always been working on crazy projects?
KELLER:
I <laugh>. I feel like life is a winding path. In college, I built computers made of r n a and d n A that operate within human cells. The goal was to build these molecular opt automata or molecular doctors that could recognize cancer on a cellular basis and cure it. So I was really interested in biotechnology. I also got to build a climbing wall in college. I was a professional rock climber right after graduating for a year and a half and then got pretty obsessed with robotics. It felt like there was it, it felt like there was a lot of really cool technology coming out of academic labs and no one was really making that technology work in the real world in a way that would be reliable enough that millions or tens of millions of people could really depend on it. And so the more we learned about robotics and automation, the more we got excited about logistics.
It seemed like what you really want in robotics is a super boring, repetitive task. <laugh> and logistics is about as boring and repetitive as it gets. And then the more we learned about logistics, the more we understood that, you know, it really serves the golden billion people on earth, the richest billion people, but it does a very bad job of serving the people outside of the golden billion. And for a hundred years we've been making excuses for why logistics is so unevenly distributed. We, as a result of that five and a half million kids lose their lives every year due to lack of access to basic medical products. And we pretend like this problem is unavoidable or somehow excusable. And we just felt like it was neither of those things. It was like if we're gonna build a new kind of logistics system, they would transform logistics toward automation, zero emission 10 times as fast. Let's also build the first logistics system that serves all people equally. And that was ultimately the vision that created Zipline.
SARAH:
Got it. And you got obsessed with robotics. You weren't working, um, logistics at the beginning. Can you talk a little bit about automotive?
KELLER:
Maybe this is true for more startups than you realized. The tricky thing is we didn't know we were starting a company. All, all I knew was me and my co-founders didn't have jobs and it, it seemed like a cool thing to do to build some robots. We started building robots and shipping them to people all over the world. And these were really simple, right? They were basically laser cut out of acrylic and you could attach your phone to it and it would become a little autonomous roving platform that you could use to teach kids programming or to do telepresence. It wasn't that good of an idea in retrospect, but it was the thing that ultimately enabled us to actually ship something, make some money and learn and grow the company as we went. We put something on Kickstarter, we ended up selling $150,000 worth of robots on Kickstarter, which was a huge amount of money to us at the time. We ended up building those robots in the apartment of, it was technically really Tony Shay's apartment. Tony was a mentor and inspiration to me. I had just read his book. He lived in the exact same dorm I did in college, just 10 years ahead of me. And so seeing what he had built and yeah, I, I didn't even know building a startup was a thing that you could do. And
SARAH:
How did you begin to get curious about logistics from these little roving robots?
KELLER:
We were building robots that would operate inside a house and interact with people and it didn't really work very well. Like in the first year people were buying them, but they ended up going on a shelf after like a month or two. And so I had this sense that, okay, we could continue investing money here and building this and even potentially selling the product, but I didn't think it was gonna be a very sticky product in the long run. And as I mentioned, what you really want is like very boring, very repetitive tasks in controlled environments. And the home is not a controlled environment and there aren't very many like really boring, repetitive tasks. It's all like a bunch of one-off tasks. Like people always ask, why can't you design a robot to fold my clothes? And if you think about like all the tasks that are required to fold clothes, that's not repetitive at all.
It's a really actually a really hard thing to get a robot to do. Well. And around the same time, I actually remember meeting the founder of a company called Kiva, which was sold to Amazon I think in 2011 or 2012. Yeah. And they had designed these orange robots that would run all over the warehouse. They would basically go and lift up a bunch of shelves and bring the shelves to a human where a human could then grab things off the shelf and pack them. And so it was a way of automating warehouses and moving things around inside warehouses. And I remember seeing that thinking, wow, someone is gonna design Kiva for outside the warehouse and that's gonna be like a world-changing company because if you could just move things back and forth outside, that would change the way the world looks. And so as a simple idea, <laugh> turns out complex in execution.
So I guess the last thing is that during that first year or two, it became clear that if we were gonna make this work, like we'd have to commit our lives to it for 10 plus years. And so we started asking ourselves like what problem would be important enough that we would be very excited to spend a decade. By the way, a decade has ended up an underestimate because we're now 10 years in and we're just gonna start. It's a lot to do. Yeah, we're like 1% of the way there. But I think it was a combination of basically saying, Hey, if we're gonna commit ourselves to this, we could pick a bigger scope, we could pick a bigger ambition. We wanted to pick a problem that would really suit the technology well. And we just had this sense that logistics was letting people down that it could be so much better and more equally available.
SARAH:
How did you decide to work on blood and medical supplies versus let's say burritos?
KELLER:
Well, it wasn't, it wasn't us. Okay. To a certain degree, yes, we had a sense, you know, doing something like this for the first time ever, everything's hard. It's hard to make the unit economics work. It's hard to get regulatory permission. It's hard to get the technology to do the thing. And so we did have a sense that if we were gonna start and launch this in the real world fast, we would need to pick a use case that was incredibly important and clear to customers. For that reason, it made a lot of sense to focus on healthcare logistics. You know, healthcare logistics today is still our bread and butter. It's the majority of the deliveries that we do globally. Focusing on healthcare really helped us on each of those fronts. It was something that was super clear to our customers. It was easier to make the unit economics work on day one cuz there's more willingness to pay for a delivery that is literally gonna save a life.
And it was easier to get regulatory permission because we would go hand in hand with the Minister of Health to the Aviation Authority and say, Hey, here's the challenge, here are the lives that are on the line. We think it's worth taking a little bit of risk from a technology or regulatory perspective in order to save this many lives. But I, I would emphasize it, we were not smart enough to know what we should focus on. I remember a conversation with the minister of health of Rwanda in 2016 where we went in saying, oh we'll deliver to every hospital and health facility in the country. We'll deliver every medical product. It'll be this full national scale logistics system. And she basically looked at us and said, shut up. Just do blood. Well it's
SARAH:
Good direction.
KELLER:
Yeah. And she was like, I don't believe you. This sounds crazy. But she was willing to give us a shot and the government ended up signing a contract with us to deliver blood to 21 hospitals. And as she was explaining it to us, she explained blood is total logistics nightmare, but it's really important for family health. 50% of blood transfusions are going toward moms with postpartum hemorrhaging. 30% are going toward kids when you need it, you really need it. And it's hard because there are all these different components. You have platelets, plasma crowd, precipitates, packed red blood cells. For a lot of those you have different types A, B A B and O positive and negative rhh factor. And then each of those components has different shelf lifes and storage requirements. So plasma frozen lasts a year, packed red blood cells, refrigerated, lasts 30 days, platelets room temperature have to be constantly agitated and only last six days. So it's a really, really hard logistics problem for a healthcare system. And we, we said yes, we, we said great, we're happy to do blood. We thought that was gonna be easy. It turned out it was not easy, it was incredibly hard and the company almost died just trying to serve those 21 hospitals during the first year. And then over the last six years it's expanded dramatically.
SARAH:
Maybe you could just help our listeners visualize the problem of how a delivery actually works. Can you just walk through, if it's the Ministry of Health or one of those hospitals, how one drone delivery happens today?
KELLER:
Yeah. The idea is really simple. It really is that any doctor, nurse or healthcare technician can push a button on a phone and we talk about what we do as teleportation. It really means they can basically teleport a product directly to their GP s coordinates. That's the vision. It should feel like magical teleportation. It should be nearly instantaneous and it needs to be reliable. And that also means we need to be able to work in any weather 24 7. So what's practically happening behind the scenes to make that work is that any of our customer hospitals, so today we serve 3000 hospitals and health facilities across the world. Anybody at those facilities can press a button on a phone and place an order. That order is then transmitted to our fulfillment center. So each of our distribution center, Zipline now operates over 20 global distribution centers.
Each distribution center has a fulfillment area where we stock all of these different medical products. Blood was the first thing that we stocked. So we, we get the order, we will confirm it, we'll pack the products, whatever that is that's needed into a box. And then that box gets handed to flight operations. Flight operations then will pre-flight and aircraft load the box into the aircraft, launch the aircraft. And we don't have runways where we operate might not be obvious. So that means that we launch using a catapult system, we land using something that sort of looks like the landing system for an aircraft carrier sort of to see it, to believe it.
SARAH:
We'll put links in the show notes.
KELLER:
Yeah. But the, you know the, the really simple vision is aircraft launches flies itself autonomously to one of these hospitals or primary care facilities descends to about 30 feet it ever lands. It ever stops. We drop the package using really simple paper parachute that enables us to deliver to a, what we call their mailbox, just think of it as like a imaginary rectangle on the ground that's the size of a couple parking spaces and then the aircraft comes home lands. We can swap batteries and we can have the aircraft back in the air about two minutes later. So our distribution centers were designed to do about 150 flights a day. For the first three years. That was a total pipe dream. Everybody thought that number was completely impossible. We now have distribution centers doing north of 300 deliveries a day over the last six years it's gone from being this sort of niche thing. We're figuring out the technology to then scaling, getting to the point where, you know, we deliver a majority of a lot of these critical medical products in all these different countries where we operate. And then today where it's the largest commercial autonomous system on earth of any kind.
SARAH:
So this is just unbelievable. It's a first of its kind systems company, it's at scale. I'm sure I'm gonna miss components, but you make a fixed-wing, long range, low-cost autonomous drone. You're doing hardware, software sensors, autonomy, weather forecasting, external UI for doctors, internal apps, integrations with hospital systems and traffic control and I'm sure a thousand other things. Not to mention all of the massive operational capabilities on the ground you just described with distribution and fulfillment centers. You mentioned the company almost died trying to serve the first 21 hospitals. How big was the team that made the first delivery? Who did you have to make that happen?
KELLER:
When we launched in Rwanda in 2016, I think we were about 20 people and that was, that's
SARAH:
Wild.
KELLER:
Yeah. And for sure that was a near death experience and it was actually a near death experience for exactly the sort of the reason you were just pointing out. We didn't fully appreciate we needed to be how full stack of a company we needed to be. We had fooled ourselves into thinking, well you've had this awesome vehicle, it's gonna work great. Like we can just launch. And it turns out that the vehicle is only like 15% of the complexity of the solution here. This is by the way a realization that I think most robotics and autonomy companies have not yet had. You don't really realize it until you start trying to serve customers and suddenly have this really rude awakening that like the customer does not care how cool the robot is or even how capable it is for our customers. The only thing that matters is does the product go from A to B ultra fast reliably 24 7 and fast enough to save someone's life?
And it turns out that all of the different layers of technology that have to be built in the background running behind the curtain to make that overall customer experience work, the drone is 15% of the complexity. There's so much complexity and a lot of things you mentioned air traffic control software that we have to provide to the regulator, computer vision-based pre-flight checks, data logging, very unsexy, but turns out it's a very hard problem. Each aircraft is generating a gigabyte of data that ha you have to upload that data and use it to make the vehicles more reliable over time. That's a hard problem in and of itself. Detect and avoid an autonomy solutions that enable the vehicles to communicate with each other and avoid each other in an airspace and avoid other airplanes. So there's a huge amount of complexity. I think people just intuitively get very focused on the physical thing that looks cool. Which is yeah, the autonomous airplane. But the reality is that's a small part of what was actually required by our customers.
SARAH:
So how did you decompose such a hairy problem? You obviously discovered more of it as you got into it, but was there an overarching philosophy?
KELLER:
There was no plan. We were severely naive when we launched in 2016. There is no doubt about it. We thought we had done some testing in Half Moon Bay, California and we thought we were ready to operate at national scale in Rwanda in any weather <laugh>, it sounds silly when you describe it in retrospect. We were so confident when we launched and for the first nine months we only served one hospital, not 21. We're wise enough to say, well we're gonna onboard the first hospital and make sure it's working reliably for that hospital before we try to do more. We thought that was gonna take two weeks. It ended up taking nine months. We were killing ourselves, pulling constant all-nighters, trying to fix all of these problems. That suddenly became apparent when we started trying to deliver reliably to this one hospital. Maybe if we knew how hard it was gonna be, we wouldn't have done it to begin with. But you
SARAH:
Might have thought you needed, I don't know, 200
KELLER:
People, more money, more time, more people. But we didn't have any of those things. We had no credibility. Nobody was gonna invest money into the company. Yeah, you just don't have those things and you don't know what you don't know. And I guess in this case it was lucky that we were so naive, but I think the reality is the thing that really did differentiate Zipline during that year of extreme pain and near death and constant all-nighters was we were never the biggest company in this space. We were not the best funded company for sure. There was a big e-commerce company in Seattle investing billions of dollars trying to build similar technology. And we never even necessarily thought of ourselves as the smartest team, but we were always by far the most practical like that was in our D N a. If we were gonna work on this, we were gonna launch it into the real world and ask customers to pay us for the service right away with no excuses. And the reality is, especially with something that's complicated, when you take the first version of your product and put it into a customer's hands and ask them to pay you money, it is a deeply humbling experience. You instantly realize why the thing that you built and love sucks
SARAH:
<laugh>
KELLER:
And is failing. And that's is a deeply unpleasant upsetting experience. And I would say that is how it felt for the whole first year of trying to operate and falling on our faces, making every possible mistake. But interestingly all the things that we would've thought were gonna be the problems ended up being irrelevant and all the things that really ended up being major problems or screwing us in terms of reliability or weather or pre-flight checks. We weren't even thinking about them really during the development process.
SARAH:
Interesting. Like what's a, what's an example of something you thought was gonna be like fatally difficult and didn't matter?
KELLER:
I think that we invested way too much money in the early days on things like flight computer reliability and redundancy. We designed this really uh, sexy two by two system where it was two flight computers running in lockstep and then you know, another redundant flight computer says if anything failed on the flight computer, we felt confident that the vehicle could still get itself home. And to this day I'm not sure that we have ever actually had to use that architecture take care. Like it's just not the thing that ended up failing. There are a lot of other things on the aircraft that ended up failing. So we ended up investing all this time building this sexy architecture on the flight compute side that wound up we were off by orders of magnitude in terms of the things that were really gonna hurt us.
SARAH:
What about on the other side?
KELLER:
Oh there are so many things <laugh>. Yeah, where do you start? But we could talk for an hour about the hard learnings from that side. But just to give a few examples. One, data logging wound up being way harder than we, we were anticipating. And that sounds. Trivial sounds trivial but it's definitely not. Yeah, <laugh> it turns out it's hard. The maintenance of the vehicle wound up, we had 43 different kinds of fasteners in the first design of the aircraft. Today's aircraft has two total kinds of fasteners in the airplane. You just realize when you're trying to keep 43 different kinds of fasteners in stock and then you cannot fly an aircraft if you run outta stock of one of those, it's just you realize okay we're, this is a huge problem acquiring G pre-flight checks and acquiring G p s pre-launch fast enough so that you get an order, you put a package into an aircraft and then that aircraft automatically has G P s lock and can launch turns out to be really hard And the entire vehicle has to be designed around optimizing for that problem. And we did not optimize the first aircraft around that problem cuz we didn't know it was a thing. Reliability of the rotors and the staters inside of the electric motor wound up being a major problem. We saw delamination of some of the components inside the motors because we air ship the first 20 aircraft to Rwanda. Mm-hmm <affirmative>, these are like really in the weeds detail-oriented things that we had no idea were gonna hurt us and wound up being life-threatening to the company for us to learn these lessons.
SARAH:
And you just can't imagine it until you run into it.
KELLER:
You cannot imagine until run into it. And it, and that's the thing like we when we talk to robotics or hardware companies today that a lot of them have raised large amounts of money, billions of dollars, tens of billions of dollars in some cases and have yet to serve customers. You just have this sense of like, doesn't matter how much money you've raised, it is gonna be a rude awakening when you actually start charging customers for your product. Cuz that is when you actually <laugh> learn all of the things that you need to fix and all the things that are gonna be super important to build. And so I do think the thing, although incredibly painful, the thing that really enabled us to survive that period was that we were very practical and unfancy and we got things into customer's hands quickly and we learned by doing and we assumed that we were idiots. And it turns out that assumption was 100% correct and even to this day that's fair. That's how we talk about it internally and even to this day when I talk to new Zipline team members, I mean Zipline's now almost a thousand people. When we talk to new Zipline team members at distribution centers or joining the engineering team, we're basic. We basically we say assume they we're idiots because we're proven correct more often than not. So your customer will tell you what really matters. We don't know anything. And so even six years in, seven years in to like commercial operations when we're launching new products or new features, we always learn hard lessons when we actually get the product into people's hands.
SARAH:
Okay, Keller, fast forward six or seven years, a lot of this stuff actually works pretty well now at supplying assume I'm an idiot and I'm gonna ask you a very basic question. We have this largely technical audience but even for a lay software engineer, it's not obvious what the difference is between like AI and autopilot, which every commercial flight uses some degree of already. I recently took like a small plane the SCE vision jet that only requires one pilot cause it's got this like cool automatic emergency landing system. Where are we in terms of aircraft and drone autonomy? And that might be like a stupid question to ask because those might be very different, but what are the parts of flying that existing autonomy systems can't handle where you guys had to do a lot of work?
KELLER:
Yeah, the advantage of flying in the air is there are not very many things to hit. So actually I think this might be counterintuitive but the self-driving problem in the air is way easier than the self-driving problem on roads. Like people, I might have this sense that it's even harder than cars actually. Definitely not like thousand times easier. And the reality is I, I think much like the self-driving problem on the ground, certainly there are all kinds of cool use cases. There's a lot of cool research going on about using neural nets and doing advanced state estimation and motion planning. It's called slam and robotics, you know, building control algorithms, state machines and then building computer vision systems that can help or lidar systems that can help like model and estimate the environment around you and recognize when a kid runs in front of the car or when you know another airplane is flying too close to you in the air.
Like these kinds of autonomy problems are still very hard and are not solved at like human safety level in either direction. But the good thing about the air is that the chances are so vanishingly small of having an air to air. I mean the air is a really big place, the sky is a big place. The reality is we were able to operate at multinational scale without having to solve really hard cutting edge computer vision problems. And I think that wound up being a good choice. We thought of the company that kind of inspired us on this front was Tesla. We saw Tesla and then Google we were looking at and Tesla had said we're gonna ship a, what I think they thought at the time was a dead simple product. Just put a battery in a car and then sell the car. Don't try to design an autonomous car from scratch.
And then there was like the Waymo approach of we're gonna build a fully autonomous car, it's a total moonshot and we're not gonna like sell a single thing to a customer until it's working. And so Zipline felt a hundred percent the right path was like the Tesla path launch something that's ultra simple that we felt confident we could get into the real world quickly, that we could make money on and learn from and then start to integrate autonomy thereafter. And I think in retrospect that was definitely the right choice. There are other companies in the drone delivery industry that I think have taken more of a moonshot approach and they've spent billions of dollars and have not served a single customer yet. The advantage is now Zipline has been able to get to this scale where our ability to collect data, our ability to know what the actual problems are, our ability to know what our customers want and are willing to pay for is much higher. And we're now integrating new autonomy systems into the overall service network. You know, every quarter we just announced this new detect and avoid technology and kind of our zipline's full autonomy stack last year we are going through a certification process with the F FAA for that autonomy stack as we speak.
SARAH:
Can we talk about that a little bit? So you mentioned it before, it's a, it's an acoustic based detect and avoid system, which is a new idea. I think a lot of people who might come from the software side or other positive autonomy might be like radar lighter et cetera. Maybe for context for our listeners problematically in the US a significant number of aircraft don't have to carry transponders, which are like little radios that broadcast your presence and location to other aircraft. And Keller, I might correct that drones don't have any right of way, you know in airspace.
KELLER:
That's exactly right.
SARAH:
And so it's their job to avoid all these other aircraft but you don't know where they are, there's no person looking around for them. Can you walk us through just like how you're solving this issue and I think people can infer you're basically listening for aircraft that's kind of wild.
KELLER:
It's a hundred percent wild detect and avoid is what you would call the problem detect and avoid has been a problem for autonomous flight in the US for 20 years because as you said, a unmanned aircraft does not have any right of way. The assumption is you have to be the one avoiding everybody else. And by the way, the detect and avoid of like a human pilot sitting in a cockpit is also extremely poor. I don't want to freak anybody out who flies in aircraft a lot. But the reality is that if you're in an unmanned vehicle, you have to solve the problem. And you're right, transponders are technically required but compliance is very low, especially in ga, general aviation. And so you can't rely on transponders, you have to be able to see something when it enters, we call it the two mile hockey puck, it's a, you know, two mile hockey puck around your vehicle.
You need to know if something enters that hockey puck and then you need to be able to actively avoid it. Why is it called a hockey puck? Because it's like a circle around you but then it's uh, a set amount of space above you and below you. So I imagine the shape of a hockey puck, okay, a lot of companies have been trying to solve this problem for the last decade. It's a really hard problem to solve because there's just no really good sensing solution. I mean you can imagine lidar, radar, computer vision cameras, each of those in lidar and radar, very heavy, very power consumptive, very expensive And like the field of view is not very, I mean radar you might have 30 degree field of view. And so then how many like radar systems are you gonna have on your vehicle? And we're talking about a fit an aircraft that weighs 50 pounds in total and you care a lot about payload, right?
We're optimizing, we spend huge amounts of time optimizing for ounces in our case grams basically every gram matters. And so you have no weight to spare as an electric aircraft. Like the battery is heavy, you wanna deliver a lot of payload, you care a lot about weight and power consumption. You know, about four years ago an engineer on the team as we were basically realizing we we gotta go solve this problem. There's no technology available off the shelf that's gonna solve this problem. And Zipline is at a scale now that is a hundred times the next closest player. And so it's not like anybody's gonna build this for us. Like we had to build it for ourselves. And a member of the team basically said, I have had this really stupid idea which was like, what if we just listened? What if we could just listen for for other aircraft and then triangulate them And the way that you can imagine like our ears echolocate we're not that good at it but could we literally Yeah, echolocate things could be like a dolphin.
Yeah like yeah a dolphin's actually active acoustic. We are passive. Passive acoustic. Yeah. Yeah sonar is a little different but yes. Can we passively listen? And we basically heard that and we're like, yeah that for sure won't work <laugh>, but let's just quickly disprove it via some engineering prototypes. And we then did some experiments and we failed at disproving the idea in those early experiments. And so we said okay, why don't we put like a two-person team on this because we're pretty sure like the first prototype will show us why it won't work. And then first prototype also failed at showing us why it wouldn't work and and it became like the plan of record for us and over the last four years we invested a lot. Like we had a large like mechanical engineering signal processing, machine learning team working together to figure out how to build a microphone array, make it work when it's traveling through the air at 80 miles an hour. Which is not an easy thing in and of itself if you imagined putting this microphone like and having gonna travel through the air and yeah, you can imagine what that would sound like. So you're really hard mechanical engineering problems, microphone design problems, there are hard signal processing problems, there are hard machine learning problems.
SARAH:
Speaking of that, did you collect your own data for this? Because I assume we did assume there's not like good location trajectory audio at 80 miles an hour pears just sitting out there on the internet for you.
KELLER:
Yep. Yeah a hundred percent. We had to collect our own data by flying a lot of microphones on airplanes. But we also collected a lot of data by designing this little system that we had at our office where we just had a microphone array sitting on the ground 24 7 recording airplanes flying overhead <laugh>. But the amazing thing is that four years in, I mean we then rolled the hardware into full production and then we turned it on in shadow mode across a lot of the countries where we operate. And we've now gotten active permission from regulators and are actually flying using it where it can now control the aircraft if it needs to deconflict from another airplane. And that system it actively listens, it can identify the make and the model of an aircraft. Is that accurate? Super cool because it turns out these neural nets, if you train them on a lot of different aircraft and what they sound like, it's really good at telling you what it's hearing and where the thing is in the hockey puck. And the beauty of it of course is that microphones are extremely cheap, they weigh almost nothing and it is naturally a 360 solution cuz that's how sound works so super counterintuitive and honestly I think most people would've just rejected that idea out of hand because it sounds dumb but it turns out that it solves the problem and that's what's gonna enable Zipline to fly full scale beyond visual line of sight. Yeah. And in clouds <laugh>.
SARAH:
Let's zoom out and talk a little bit about Zipline as a business. So counterintuitively to perhaps many people like me and you that kinda live in the Bay area and it's a hotbed for innovation. The government of Rwanda was your first customer. Like why did you guys start in Africa? We have healthcare deserts and access issues in the US too.
KELLER:
When we knew we wanted to start in healthcare, we thought that it probably made sense to start with a public healthcare system rather than a private healthcare system because advantage of a public healthcare system is you can go and work directly with a country and then you serve all hospitals and primary care facilities. Whereas in the US we have so many different health systems, it's really complicated. You have to work one by one. We had a sense that we probably needed to work with a country that was small, innovative and agile in the same way that we were. And so that led us to focusing on some of these really high performing public health systems in Africa. We felt like the problems were super clear. We had a government that was as innovative and entrepreneurial as we were and they were willing to move quickly and make regulatory exceptions also in a way that the F A A just can't do.
So all three of those things wound up really creating a strong partnership between us and the government of Rwanda in 2016. That's a partnership that we have been grateful for. They put up with a lot like we were, we had no idea what we were doing in the first year. As I mentioned, we were trying to serve 21, we served one hospital for nine months. They were very patient with us. They knew we were trying to do something for the first time in the world ever and that it wasn't gonna necessarily be a smooth path. Looking back just a couple weeks ago we announced this new national scale partnership that we signed with the government. It's a 61 million partnership. Zipline is now delivering all medical products to every hospital in the health facility in the country. We are the largest logistics network in the country. We not only deliver all healthcare products, we began delivering products directly to people's medical products, to patients homes. Then we began delivering a lot of other products. We now deliver a wide variety of agriculture products that increases productivity of farmers, decreases childhood malnutrition, brain stunting cycles of poverty. We're working with them around providing an e-commerce solution. It's becoming full national scale infrastructure. And by the way, as part of that, Rwanda made I think what's the largest investment into any private company the country has made into Zipline. So
SARAH:
Congratulations
KELLER:
Is now a shareholder in the company. So you know, seven years in it's been an amazing partnership. We're really proud that we've been able to learn together and now so many other countries are following suit and Zipline launched in Ghana today we serve I think 1800 hospitals and health facilities in Ghana. Late last year we launched in Nigeria this month we're launching in Coat DIR in Kenya and we began operating in the us We now have three distribution centers in the US So yeah, started small, but I do think zipline's survival depended on finding a partner that would move equally fast and be equally agile.
SARAH:
So what is the biggest challenge to getting Zipline everywhere for more goods? Is it make the system magnitude cheaper? Is it just engagement with partners?
KELLER:
I think the meta challenge is that hardware is hard and especially when you're a full stack company where you design the vehicle, you manufacture the vehicle and then you operate the entire vehicle and service for customers. That turns out there's a lot that goes into that. Zipline has to be really good at supply chain. We have to be really good at supplier industrialization, engineering. We have to be really good at manufacturing, we have to be really good at logistics. We have to be really good at all the different kinds of engineering, right? Whether it's electrical engineering, firmware engineering, software engineering, mechanical engineering, aero aerodynamics, aero acoustics, everything. And then we also have to be really good at operations. Like we have to know how to operate fulfillment centers. We have to ha know how to get regulatory approval in the countries where we operate. We have to know how to do flight operations, we have to do maintenance.
So I think the challenge is that this kind of infrastructure is complicated and it's not like a software company where you can just scale a hundred x in a year. And it's similar to Tesla where Tesla's been in this crazy position of being massively supply constrained for five years because it's like you can only build factories so fast. But I think the flip side of that is that although hardware is hard, I do think that those companies wind up being some of the most defensible companies on earth. Like they have very powerful competitive most because you know really hard to compete with a hardware company at massive scale. It's the reason it'd be hard to build a new kind of smartphone and compete with Apple. Things about building the company are really hard. But I think the flip side is I do think a lot of the most important companies for humanity o that are gonna be built over the next 20 years are gonna be hardware and infrastructure companies. Uh, they're more capital intensive, they're harder to build, but they also have way more momentum and inertia and I think powerful competitive advantages.
SARAH:
And they're worth building.
KELLER:
I think so, yes. <laugh>? I think so. Like I, although I thi I feel like there are a lot of investors who look I'm speaking to a venture capitalist. But I do think that over the last 20 years I think a lot of a America and investors and I feel like we lost our vision for the future. You know, I grew up watching Star Wars and Star Trek. I was a big treky, huge nerd. Me too. Like the vision that we were promised of robotics and automation and nuclear fusion and genetic engineering and life extension, you know, and some of that's working interstellar space travel. I think you're right. Yeah, absolutely. I think it is. But I think the tech industry in the US was a lot more focused, at least for a decade or two on smaller ideas of you know, you incremental SaaS products and things like that. And it was very difficult to raise money for Zipline for the first six years, right? Like I, I think it's only recently that investing in robotics and genetic engineering has become a thing. So the exciting vision of the future is not one where we are designing like the metaverse and NFTs and we're all like living in a digital world depending on the crumbling infrastructure that our grandparents built for us. That's crazy. Why are we not building more highways, more tunnels, new kinds of aircraft, new kinds of spaceships. There's so much to to build and I think that we lost our imagination and appetite for building things in the real world a little bit at least. But I agree with you. I think that's changing and I think that's really exciting and that is the thing that inspires us every day. So let's go build national or multinational scale infrastructure that can save millions of lives and make the world a more equal place. Like what's cooler than that?
SARAH:
You're an inspirational entrepreneur for I think the next generation Keller. And I hope to see many more companies that have those goals. Maybe o one last question for you about the business. 2022 was a big year, you expanded geography as you described. You got that f a a certification, you signed a deal with Walmart, I believe you made over 200,000 deliveries, which is more the last five years combined. You hired Deepak Ahuja, former Tesla C F o, among other amazing talent. What can you tell us about what's next?
KELLER:
Yeah, I mean I think I was just talking to the team about this. A 2023 Zipline is definitely in the middle of a very intense growth period. And I don't know, I guess our timing stinks cuz we're doing it during a large macroeconomic recession. But actually the reality is the forces that are causing the recession also are accelerating Zipline because inflation, like the increasing cost of labor and gasoline are the things that cause customers to adopt our business 2023. Partly for that reason, 2023 is gonna be an intense year of growth. We're gonna increase total flight volume by 400% in 2023 based just on contracts that are already signed. So that means we'll do about two times as many autonomous deliveries in 2023 as we've done in the history of the company since it's founding. That's a lot of work. Handling that kind of scale is hard.
Things break basically every single day when you're growing that fast. We're also dramatically expanding, you know, you mentioned the partnership with Walmart. We've signed a lot of other partnerships with big players in the us, Intermountain Healthcare, avant Healthcare, MultiCare, Michigan Medicine. These are all big hospital systems that are now relying on Zipline to take over to basically build autonomous instant delivery directly to homes. We really think of teleportation as just the other half of telepresence. So if a health system can, you know, if you can pull out a phone and talk remotely to a doctor and that doctor can diagnose you, the health system should then be able to say, awesome, we know what you need. It's gonna be on your doorstep in five minutes. Expanding the service in the US is a big priority. We have four new distribution centers coming online, two in Nigeria, one in Kenya, one in Kooi. We are also launching, there's a really big new thing that we'll be announcing in a couple months that I, you know, can't talk too much about. But yeah, something that we've been building for the last three years and that I think is gonna be quite transformational to the logistics industry broadly.
SARAH:
We'll look out, we'll lookout for this launch. I hope you, you won't mind me saying so, but there are a lot of ways in which Zipline as a company is unlikely, right? As you said, everything is hard or so many of our listeners are founders who may wanna tackle similarly audacious problems instead of perhaps something trivial and incremental. What advice would you offer them about a secret that has made Zipline work today? I heard one thing from you, which is be ruthlessly practical.
KELLER:
Yeah, I think that Zipline was 100% improbable. There's no doubt about it. And when we started building the company told the team, I remember we were at a Christmas party where we all fit around one table at a little hole in the wall Chinese restaurant. And I think someone on the team asked, what do we think are the chances of success? And I said, I think the chances of success are about 1%. And everybody was upset. But then I was like, guys, it's, it's 1% of a totally world changing. If we actually succeeded at automating logistics and making it serve all people equally and providing universal access to healthcare to every single person on earth and transitioning all of last mile logistics to zero emission. I mean that's, that would be so world changing. Like it's worth it. I think it takes a special kind of person to wanna work on a project that has a 1% chance of success.
And Zipline was thoughtful about making sure that we hired people who were okay doing something that was risky and where failure was a extre very real and likely option. But that doesn't mean we shouldn't work on those things. And I think the reality is that also a lot of those ideas that are most challenging, most ambitious, most scary, there's less competition. Zipline today. Yeah, we look around, no other companies are operating at anywhere near the scale, right? And so it's like choosing these more, less ambitious, more incremental problems. You end up being in perfect price competition with a lot of other folks working on the exact same thing. Whereas setting your sites a little farther ahead and saying, Hey, we think the world is gonna be this way in five years or 10 years and we'll work in un fancy, scrappy, practical ways for a decade.
I do think you can build really important companies that way. And I think that there are definitely investors out there who are willing to fund those kinds of ideas because I think those kinds of ideas are often become the biggest companies. And yeah, so I guess that's my advice. I don't know that it's for everybody, but I also think that, I think the biggest thing that I would say is that I think that technology has a bad rap. Like we can look around and see the biggest problems that are affecting humanity. And I think unfortunately the way the world thinks about it is, oh, the technology is gonna serve the richest people on the coast of the United States. And then all the problems that really matter for humanity, like childhood malnutrition, brain stunting, reproductive health for women, democracy, free speech, energy and sustainability. Like all of these problems actually in many cases get left up to like government or nonprofits, which is really bad because government and nonprofits are bad at solving problems and incapable of deploying technology. <laugh>,
Sorry to be, I mean I'm, that's not, no, I completely agree, but like the vast, vast majority of the time. Yeah. But yeah, okay, so it's a, I'm like being a little bit provocative, but I think that the reality is like all of these problems that impact 6 billion humans plus and that are crying out to be solved for humanity at global scale. Like they require engineering, they require technology, they require sustainable business models so that we can actually scale a solution once it's built. And I think that having the smartest engineers and entrepreneurs graduating from the best colleges and then going to work for a large search engine to help them sell 0.1% more ads, it's not actually a great application of humanities. Talent. Talent. Yeah. Like I, one of the most important things that we have, you know, tried to prove is that you can build a multi-billion dollar company focusing on important problems for humanity.
And there's an opportunity for the smartest, most driven engineers and entrepreneurs and operations specialists in the world to work on problems that really matter, will make the world a better place if they can be solved. And by the way, showing that that's not about philanthropy. The thing that drives me crazy is people, a lot of people look at Zipline and they're like, oh it's so generous of you, it's so philanthropic that you operate in these countries. And we're always like, that is exactly the wrong way to understand what we do. You know, we make money in all of these countries. It is gross margin profitable at almost all of our distribution centers. And the whole point here is that like sustainable unit economics, building a profitable business is how we actually scale solutions that can work and solve problems for like 6 billion people. So we believe very strongly in like entrepreneurship and as an engine innovation for good. Yeah. As an engine to solve these problems and to make the world a more equal place.
SARAH:
I do too. But it's amazing to see an example of it. Keller, we are up against time and that's all we can do today. I was so looking forward to this interview. Thank you for joining us on the podcast.
KELLER:
Thank you so much for having me.
(Theme music fades in)
SARAH:
Thank you for listening to this week's episode of No Priors
ELAD:
Follow, No Priors for new guest each week and let us know online what you think and who in AI you want to hear from.
SARAH:
You can keep in touch with me and conviction by following at @saranormous
ELAD:
You can follow me on Twitter @EladGil. Thanks for listening.
SARAH:
No Priors is produced by Conviction in partnership with Pod People. Special thanks to our team: Cynthia Gildea and Pranav Reddy; and the production team at Pod People: Alex Vikmanis, Matt Sav, Aimee Machado], Ashton Carter, Danielle Roth, Carter Wogahn, and Billy Libby. Also our parents are children, the academy and open Google Soft AI, the future employer of all of Mankind.